About
Ganesh Chaturthi
Ganesh Chaturthi is an annual festival which usually falls in late August or early September. It is one of the biggest celebrations on the Hindu calendar and will be marked by the yearly Ganesh Bumper lottery draw from Lotto India.
Also known as Vinayaka Chaturthi, the festivities are held in honour of Ganesha. He is the deity with the head of an elephant and body of a human, who is said to provide fortune, take away obstacles and be the lord of letters and learning.
Time left to participate:
Sorry, the Ganesha Bumper is not available to play from your country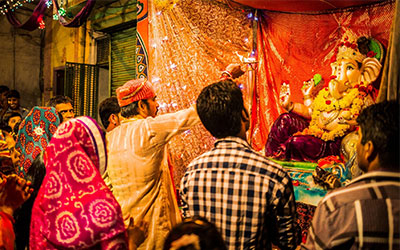 How is Ganesh Chaturthi Celebrated?
Ganesh Chaturthi has been observed for hundreds of years across different states in India, while it also takes place in other countries with large Hindu populations. The nature of the celebrations varies from place to place, but traditionally it can last for a period of 10 days and include both private and public elements.
It is also important not to look at the moon during Ganesh Chaturthi, as it is said you will face false allegations and dishonour unless you chant a certain mantra.
The festival concludes 10 days later, on a day known Anant Chaturdashi. There are usually long processions, as worshippers carry their statues of Ganesha and immerse him in the sea or another body of water. As the clay dissolves, it signifies that Ganesha has returned to the sacred mountain of Mount Kailash and marks a new beginning.
Ganesh Chaturthi has traditionally been a period when special lottery draws have also been scheduled, tapping in to the excitement that is around at that time of year. Maharashtra, one of the states where the festival is most popular, often holds bumper draws to tie in with the occasion.
Lotto India holds a Ganesha Bumper draw, providing you with another way to enjoy the festival. It takes place to coincide with the holiday and offers a jackpot of ₹40 Crore. It could be that your new beginning sees you win one of India's biggest-ever lottery prizes.
When is Ganesh Chaturthi?
The festival is observed in the Hindu calendar month of Bhadrapada. Specifically, it starts on the fourth day of the waxing moon, known as the shukla Chaturthi, so it will normally happen between August 22nd and September 20th.
The following table shows the dates when Ganesh Chaturthi is set to take place over the next few years.
| Year | Date of Ganesh Chaturthi | Date of Ganesha Bumper Lottery* |
| --- | --- | --- |
| 2023 | September 19th | September 19th |
| 2024 | September 7th | September 6th |
| 2025 | August 27th | August 29th |
* As the Ganesha Bumper draw takes place as part of the usual Lotto India schedule the lottery must take place on a Tuesday or Friday